This article was originally featured in Mamamia
By Emily Krecinski
Shichida Mum, Emily Krecinksi recalls the moment her husband discovered their daughter, Chloe's ability to read
The first time we realised that Chloe knew her numbers and letters was when my husband was out washing the car.
He could hear her mumbling away and went to check up on her. She was just two at the time, and was reading our car's licence plate! My husband actually took his phone out to get it on video, so he could send it to me.
We knew she could point to the letters of the alphabet, and knew a few numbers, but this came as a surprise.
She always appeared to be able to pick up new concepts easily and has been reading since she turned three. Now she's four and a half, and just started school last month. Some of her favourite books are Cat in the Hat, Possum Magic, Slinky Malinki and The Fly Went By.
Watch the moment Chloe read for the first time below. Post continues after audio.
She also loves addition and subtraction, a few days ago she showed us she knows multiplication – all of a sudden, she said three 10s is 30. I hadn't gone over that with her. She often throws things like that at us, we really have to keep up with her.
About a year ago she started looking at the GPS on the dashboard when we were out driving around. She and would read the street signs and speed limits out to us – she'd even tell me if I should speed up or slow down. She was a little backseat driver.
This has now developed, and the signs she reads have gotten more and more complicated. Now as we're whizzing around, she's saying keep left here, or go straight there.
Children's author Morris Gleitzman shares his best tips for getting any kid to love reading. Post continues after. 
Chloe seems to have developed memory and knowledge of numbers, which we worked on from an early age, and this has opened up a lot of other avenues for her.
She has been attending an early learning centre, called Shichida Australia, since she was 18 months old. I first heard about it on TV and thought it looked like an interesting program – mainly because it worked on skills like visualisation techniques, fine motor skills, confidence building and fun aspects of learning that didn't seem to be offered in any other activities.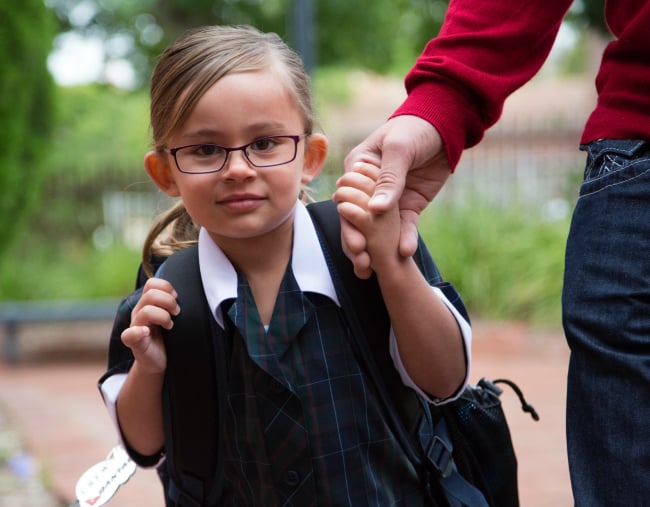 I think this has all really stimulated her learning, improved her concentration and helped her prepare for the transition to school. Shichida also gave us the tools to be able to incorporate opportunities for learning into everyday life – this has been incredibly helpful.
At home, we do a lot of reading and take the time to explain things to Chloe. A lot of the time she takes the initiative and we go along with her – we help provide her with the tools to answer what she's looking for.
When we're cooking in the kitchen and measuring things out, we might explain things like half or a quarter. We will be talking to her and explaining it. Kids are so curious, they want to know everything. They love to learn if we give them the opportunity.
The main thing for us was that Chloe would have a smooth transition into school and not find it scary or daunting. We're still in really early days, but so far, her transition has been really easy.
For now, I've pulled back on a lot of her extracurricular activities. These days she seems to fall asleep in the car on the way home from school as it's all so new. We might pick up gymnastics and swimming again once she settles in more – the only thing we kept up is Shichida.
Reading helps Chloe in so many ways – she can engage in real-life scenarios such as recognising road rules, having an understanding of dangerous hazards and how these may impact her. Being able to read signs helps make life a little less daunting. Whether we're at school or out shopping, she has the ability to relate to where she is.
Ultimately, we hope that Chloe will develop a love of learning and that it will be easy for her later on.